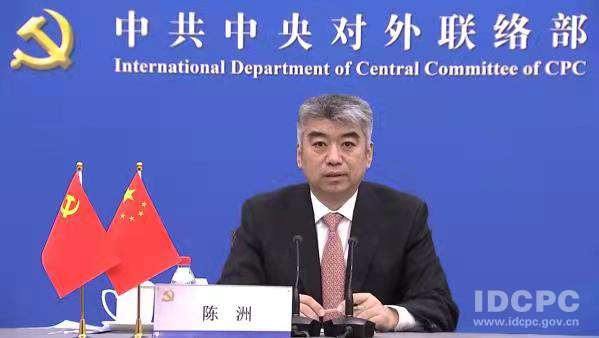 Beijing, September 29th—Chen Zhou, Vice-minister of the International Department of the CPC Central Committee (IDCPC) and Co-Chairman of the Council of the Silk Road Think Tank Association (SRTA), attended here today a symposium on the 100th anniversary of the founding of the CPC and China's role and status in world development co-organized by the SRTA, Bulgaria National Association for the Belt and Road, and the Chinese Embassy in Bulgaria via video link. Dong Xiaojun, Chinese Ambassador to Bulgaria, and representatives of experts and scholars from the two countries attended the symposium.
Chen said, over the past 100 years, the CPC has led the Chinese people to pursue revolution, construction, reform, and rejuvenation, and helped the Chinese nation achieve tremendous transformation from standing upright to becoming prosperous and growing in strength, writing a magnificent chapter in history. On the new journey, the CPC will deliver on its promises, open up new market space for the development of all countries through building a new development paradigm, add new strong impetus to the development of all countries through the high-quality Belt and Road cooperation, and provide new reference for the development of all countries through promoting common prosperity, so as to make new and greater contributions to world peace and development through promoting positive interactions between China and the world.
Zahari Zahariev, Chairman of Bulgaria National Association for the Belt and Road, said that the symposium came at an opportune time, and all sectors of Bulgaria have always supported the healthy development of bilateral relations. It is hoped that the Bulgarian side will acquire valuable experience from the CPC's 100-year history at this symposium, to better promote state administration and economic and social development in Bulgaria.
Enditem